India July 2018
Korrektur bei den Small und Mid-Caps bietet Chancen.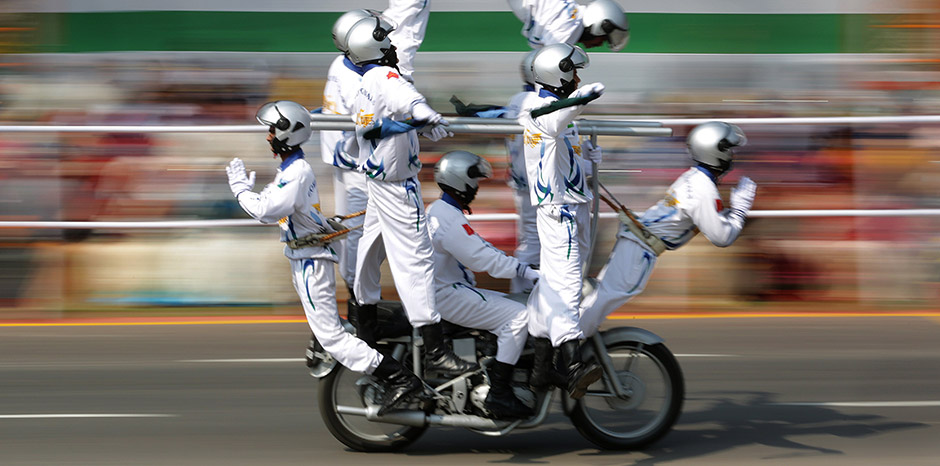 Indien ist Motorrad-verrückt: Nicht nur im Alltag und in Filmen, sondern auch bei allen möglichen Anlässen und Paraden spielen Motorräder eine wichtige Rolle. PIYAL ADHIKARY KEYSTONE
Die Korrektur bei den kleinen und mittleren Unternehmen hat sich im Juni verschärft. Chrys Kamber, Head Indian Investments, analysiert in ihren Insights die Ursachen der Korrektur und wie sich daraus neue Chance für den Padma India Fund ergeben.
The 4th quarter GDP growth for fiscal year (FY) 2018 unexpectedly surged to 7.7% year-on-year, resulting in FY18 growth of 6.7%. The outlook for the economy remains positive with the World Bank forecasting FY19 GDP growth at 7.3%, mainly driven by government spending and its multiplier effect. The sustainability of this forecast is nonetheless at risk due to higher inflation, widening of the current account deficit due to increasingly strong oil price, and tightening monetary conditions. Despite maintaining a neutral monetary policy stance, in June the Reserve Bank of India (RBI) raised its benchmark interest rate by 25 bps to 6.25%, its first rate hike since 2014, citing the strengthening of domestic growth and sharp increase in inflation expectations of household. Given the fact that the Modi government has recently announced that it would buy crops at a higher minimum support price as it gears into general election campaign mode, inflationary pressure might remain, thus prompting the RBI to consider another rate hike.
Neue Regulierung führt zu Umschichtung
The small and mid-cap sector continued the downward trajectory seen since the beginning of the year, mainly exacerbated by the rebalancing of domestic mutual funds in June in order to comply with market capitalization reclassification guidelines on fund holdings issued by the Securities and Exchange Board of India (SEBI). Consequently there have been major shifts to date, with mid and small cap stocks tending to be sold in favor of large caps. This selling pressure seen throughout June should ease up in the coming days. In addition, continued rise in crude oil prices, foreign fund outflows, and a declining INR contributed to the negative market performance. Indeed, India along with other emerging markets are bearing the brunt of global headwinds that have seen their currencies depreciate relative to the USD and an exodus of foreign investors amid rising interest rates, withdrawing roughly USD 34 billion from Emerging Asia. Domestic mutual funds nonetheless saw strong retail inflows, but given market volatility, have yet to deploy this accumulated cash.
TVS Motors neu im Portfolio
Padma posted a loss of 8.2% for the month, coming slightly ahead of the S&P BSE Small Cap Index (USD) which had a loss of 8.5%. Among the benchmarks, the Nifty Index and MSCI India Index weathered through the month with less severe losses of -1.7% and -1.3%, respectively in USD terms. The consumer discretionary and industrial sectors were the main negative contributors to the fund performance this month, while at the holdings level Ahluwalia Contracts was the major underperformer. The fund is bullish on this construction company given its low debt levels, strong order inflows, and is poised to take advantage of government related social infrastructure spending. Meanwhile steel manufacturer M.M.Forgings, a small cap firm, had a relatively strong showing this month and was one of the few positive contributors this month. The fund views this correction as an opportunity to buy reasonably valued small and mid-caps that have high growth potential. For instance in June, the fund added TVS Motors, a mid-range two-wheeler manufacturer that has seen strong sales growth in the past year and is gaining traction in rural areas.