Commodities May 2018
Markets are picking up speed.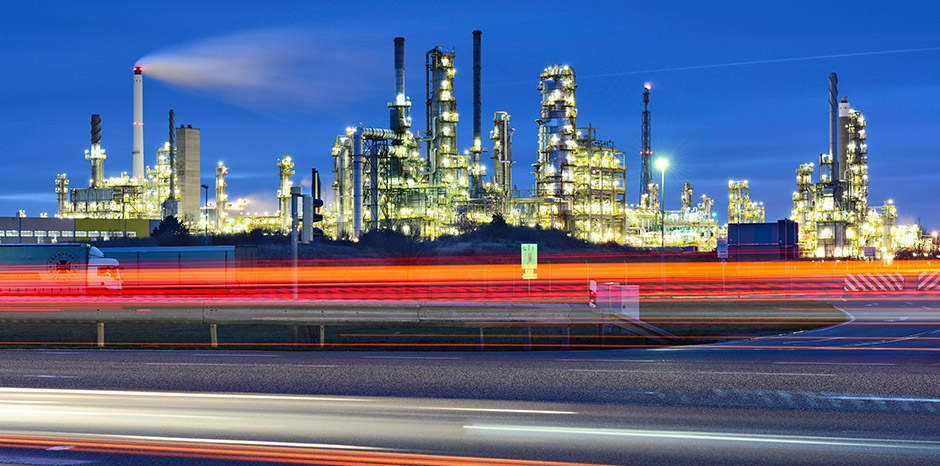 The TOTAL refinery in Leuna, Germany, is one of the most modern refineries in Europe and has a production capacity of 12 million tonnes of oil. The French corporation TOTAL is the fourth largest mineral oil company in the world.
ANDREAS VITTING KEYSTONE
The commodity markets resumed a broad-based upward trend in April putting them back in the profit zone over the year. David Lincke, Head of Portfolio Management, offers a positive report in his market commentary for April. Particularly for the Picard Angst strategies.
Following a mixed first quarter of 2018 that was characterized by consolidation, commodity prices have resumed a broad-based upward trajectory in April. Rising geopolitical tensions and the escalation of trade disputes between the United States and China served as notable catalysts. Headwinds created by a strengthening US dollar were mitigated by increasing indications of rising inflationary pressures in the global economy.
Strong global growth in demand
At the sector level, energy commodities exhibited particular strength. Apart from rising geopolitical tensions in the Middle East with the US/European military intervention in Syria and the increasing threat of a US exit from the multilateral nuclear agreement with Iran raising the specter of a reintroduction of sanctions on the Iranian oil industry, the ongoing tightening of supply balances propelled by OPEC production discipline and strong global demand growth helped to push up prices of crude oil and distillates. Industrial metals were impacted by the imposition of further sanctions on Russia targeting the industrial interests of Kremlin-connected oligarchs. The resulting spike of aluminum prices temporarily exceeding 25% sparked momentum across the base metals sector. On the other hand, precious metals were weighed upon by a strengthening US dollar which was accompanied by a further rise of interest rates that broadened out from the short end towards the long end of the yield curve. Overall, prices for agricultural commodities exhibited an upward trend against a backdrop of robust demand and shrinking inventories. Contrary to the recovery trend across major grains, however, soft commodities such as sugar continue to be weighed down by relentless upward revisions to the expected supply surplus.
Picard Angst strategies beat benchmarks
As a consequence, cyclical commodity sectors performed best. Among the benchmarks, this contributed to the S&P GSCI Commodity TR index with a strong gain of +5.04% outperforming the Bloomberg Commodity TR index (+2.58%). Our own broad-based PACI strategy also managed to outpace its benchmark with a gain of +3.44%. In the same vein, ex-agriculture strategies exhibited particular strength with our PA Energy & Metals strategy adding +4.04% and pulling ahead of the Benchmark Bloomberg Commodity ex-Ag ex-LS TR (+3.35%).