Commodities December 2018
Is the cease-fire over again?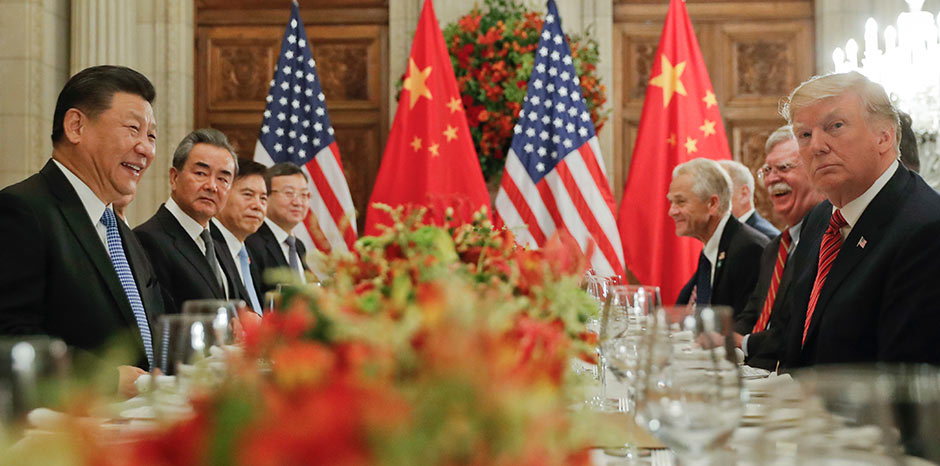 XI JINPING AND DONALD TRUMP MET FOR THE G20 SUMMIT IN EARLY DECEMBER. BUT THE BILATERAL NEGOTIATIONS FAILED TO RESOLVE THE CONFUSION OVER THE FURTHER COURSE OF THE TRADE DISPUTES. PABLO MARTINEZ MONSIVAIS AP KEYSTONE
Rising uncertainty with respect to the global growth outlook and worries over a potential further escalation of the trade conflict between the US and China kept financial markets on edge in November ahead of the G20 summit. Against this backdrop, commodity prices exhibited rather disparate behavior. Given a strong downdraft of crude oil prices, however, broad benchmarks suffered significant losses for the most part.
Natural gas prices rise in the USA
Concerns over excessive supply in the wake of unexpectedly generous grants of waivers for the newly instituted US export sanctions against Iran as well as signs of weakening product demand induced severe bloodletting in the crude oil and product market in November. Brent as well as WTI crude prices collapsed by as much as 22%. In stark contrast, US natural gas prices exploded to the upside rising by as much as 45% in the course of a couple of weeks as a pronounced cold spell engulfed most of the US while inventory levels remain unusually low. As a consequence, portfolio returns in the energy sector have exhibited unusually strong variation across strategies in November as a function of the specific oil-gas blend. Base metals managed to hold their own in the face of negative macro sentiment as the ongoing trend of supply tightening with many metals helped prices to appreciate on average. Meanwhile, precious metals remained focused on the US dollar and exhibited little movement overall. In agriculture, despite sustained uncertainty regarding any resolution of the US-China trade conflict, grain prices registered gains led by soybeans and wheat as yield estimates were revised lower. Soft commodities such as coffee and sugar, on the other hand, came under pressure as the Brazilian Real gave back some of its recent gains against the dollar.
Picard Angst strategy outperform benchmarks
Particularly hard-hit was the energy-heavy S&P GSCI Commodity TR index with a loss of -11.28%. The more balanced benchmark Bloomberg Commodity TR, on the other hand, escaped most of the carnage retreating by merely -0.56% as it benefited from a weather-induced upside explosion of US natural gas prices, a commodity with a particularly high weighting in this benchmark. Our own PACI strategy lacked this tailwind as it excludes natural gas from consideration for strategic reasons, that have proven themselves over the long term, resulting in a monthly loss of -3.74%.